Goodman Healthcare Reviews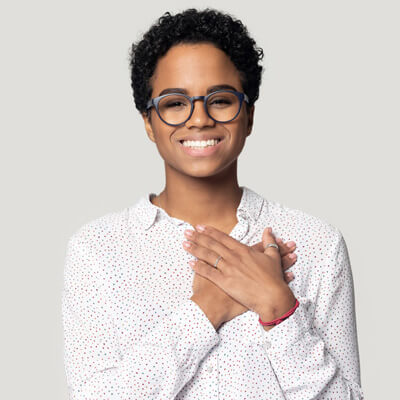 What Our Thatcher Patients Say
At Goodman Healthcare we love when patients share with us their feedback and comments after chiropractic care. Please read our patient testimonials below to see what other people have achieved through their tailored treatment plans with us.
Share your stories too! Click here to send us your feedback so that we can help to spread the word about the benefits of natural Goodman Healthcare care.
For more information, or to schedule an appointment contact us today.


Constant Pain
When I decided to finally take care of myself I came back to Goodman's. The previous treatment I had was fabulous so it was no surprise the treatment I had this time was as well. I was so sore and stiff, I was in constant pain. I went through adjustments, strengthening, and decompression. I feel 100% better than a few weeks ago. My pain is almost 90% gone, I am able to move easier and feel like I can breath. Our spinal health is so important and one of the last things we take care of, I highly recommend Goodman Healthcare!
– Joy Peck
Most Effective Treatment
I have been to many chiropractors over the years and I believe that the care I have received here at Goodman Healthcare has been the most effective. The treatment plan developed specifically for my needs was thorough and addressed all my issues. I am finally getting some relief from chronic, land-standing neck pain and am grateful for that. The two doctors and all the staff have been professional as well as warm, friendly, and compassionate. Thank you for all the care to date and I look forward to ongoing care for my chronic issues.
– Cynthia Chaney
Headache & Migraine Relief
"When I came in for help I was having headaches and migraines daily. Also, I had a lot of tension in my neck. After a couple of weeks of coming my headaches and migraines were almost non-existent. The tension subsided and I was able to enjoy life again. Through the process I also noticed that my posture improved and I felt like a great weight had been lifted off of me. This has been one of the best things I have done in life.
– Jesa Mitchell
Pain Reduction Immediately
After my accident, I was referred to this office. Not only did they significantly reduce my pain immediately, Dr. Willis was able to assist with a plan that addressed issues I had prior. While healing from my car accident was the ultimate goal and what was focused on, Dr. Willis also addressed some lower back pain that I thought I just had to live with as a side effect of age and high heel usage. The entire staff is professional, the office is clean and comfortable. I will regularly continue to have adjustments here.
– Carrie Gilbert
Low Back Pain Relief
My first appointment at Goodman Healthcare, I had injured my lower back by lifting something wrong. We were able to get an appointment right away. Everyone in the office was very pleasant and helpful. We were shown around the office and introduced to everyone. The initial evaluation was very thorough. Our next appointment we met with Dr. Willis and decided which treatment plan would be best, two months later I had a re-evaluation and I was amazed at the progress that I have made. Thank you to everyone in the office for the way you have taken care of me.
– Terrill Kennedy
Neck Pain Relief
My experience has been great. When I first came in I had neck pain to where I couldn't turn my head to look left. I was getting really bad headaches, my lower back was hurting, my energy level was decreased and I knew this was not normal. Coming in I was nervous and scared, but through this all I have loved it. I have no more lower back pain, my energy is increased, I have full range of motion in my neck, and my headaches have improved. The staff is great.
– Yesenia Barragon

Goodman Healthcare Reviews | (928) 348-8997