Massage at Goodman Healthcare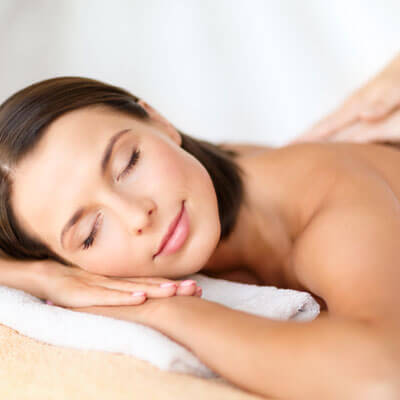 Mention massage and you may think of a luxurious spa treatment. While massage can indeed be highly relaxing, there are many health benefits. These include the following:
Relieves pain
Reduces stress and tension
Decreases anxiety and depression
Promotes relaxation
Improves posture
Addresses stress-related insomnia
Whether you're seeking relaxation, pain relief or looking for tension relief, massage therapy can help you feel fantastic.
Meet Our Therapist
Our massage therapist Maira is a recent graduate of Southwest Institute of Healing Arts massage program in Tempe, Arizona. She is known for providing a gentle and specific touch, making massage ideal for patients across the spectrum, including geriatric patients, pregnant women and those who were involved in an auto accident.
Specializing in myofascial work, Maira understands anatomy and the fascia and has worked specifically on problem areas. So even though you won't get a forceful massage, everything will move much better for you afterward.
Frequently Asked Questions
Do you recommend chiropractic and massage?
We do see the synergy and the benefits of having chiropractic care along with massage. When we adjust, we change the signal going to those muscle groups and help the body relax and change muscle tone to improve balance.
With chiropractic, we address the body from the neurological angle of helping things stay loose. Then if you follow it up with massage, Maira brings in all the circulation and the lymphatic drainage and the myofascial benefits of having those things moving.
While chiropractic treats the cause, pain or limited range of motion can improve with getting a massage regularly. That's particularly the case for our motor vehicle patients.
What should I wear to the massage appointment?
We recommend that you wear comfortable clothing; however, therapeutic massage is usually performed with the client undressed. Rest assured that you will be appropriately draped at all times during your massage. While most people undress completely, some elect to leave some clothing on such as underwear. You choose what level of comfort is right for you. Your massage therapist will respect your privacy at all times.
How many sessions will I need?
It depends on what you're coming in for. Massage likely will be part of your overall treatment plan, which will include chiropractic care. Your chiropractor will let you know how many sessions he thinks you will need and the financial breakdown of your care plan.
Let's Get Started
Contact us today to make a massage therapy appointment!
CONTACT US

Orthorics Thatcher AZ | (928) 348-8997