Meet Dr. Jared Nelson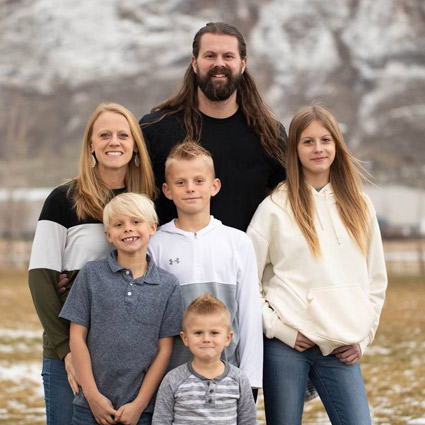 "What I love most about being a chiropractor is seeing each patient experience a successful outcome, especially when they're skeptical and don't have a lot of hope." For Dr. Nelson, it's fulfilling to work on patients and open their eyes to the fact that although they've been living with their condition for a while they haven't had to.
He wants his patients to know that there are options like chiropractic that aren't invasive. It's so gratifying to Dr. Nelson to watch people that don't feel like they're going to get much better get better.
Experiencing the Effects of Chiropractic
An avid horseback rider growing up in Utah, Dr. Nelson broke his pelvis in three places while riding. He was supposed to get surgery and plates, but he didn't because he wanted to avoid taking the invasive surgical route. "I walked oddly for six months to not be in pain, and my injuries slowly healed on their own."
However, Dr. Nelson had problems for a long time. He went to specialists, doctors and surgeons and they all said the same thing: they didn't know what was wrong. Their solution was to prescribe painkillers and muscle relaxers. That approach didn't appeal to Dr. Nelson and he thought there had to be a better way to restore his health.
Fortunately, there was. A friend of Dr. Nelson was going to chiropractic college and needed people to work on to graduate. Although Dr. Nelson offered to help his friend by agreeing to get adjusted, he didn't think it would make a difference.
"I didn't think chiropractors could do much but I wanted to help my friend. In six weeks 12 years of serious back issues and pain were gone and have never come back. I thought of how many people out there are walking around with decades of pain." At that point, Dr. Nelson changed his entire career path.
Chiropractic Education
Dr. Nelson first earned his bachelor's from BYU Hawaii. He then enrolled at Parker University in Dallas, Texas, and earned his Doctor of Chiropractic in 2017.
Dr. Nelson cares for patients of all ages and sees a lot of athletes, in particular. He is highly proficient in an array of chiropractic techniques and is certified in myofascial release.
Enjoying an Active Family Life
Dr. Nelson loves living in Thatcher, particularly the safety and security of our tight-knit community. He also enjoys being outdoors. Dr. Nelson used to play a lot of sports including football, rugby, baseball and basketball. He also competed in spearfishing. And yes, Dr. Nelson still goes horseback riding!
He and his wife have four kids– three boys and one girl. His favorite thing is getting them out in nature.
Book an Appointment
Contact us today to schedule an appointment with Dr. Nelson!

Dr. Jared Nelson | (928) 348-8997